Bulk Golf Tees and Wholesale Golf Tees
Available in a wide range of sizes and colours
Top quality American White Birch makes our wooden golf tees the best in the industry. And being biodegradable golf tees, they are great for the environment.
With a choice of three sizes and 20 colours available, you're sure to find the right wooden tee to suit your needs, whether you are a golf club looking to stock your own branded golf tees, supply golfers with tees; or you are a retailer looking to stock printed wooden golf tees as part of a larger range of golf products.
Wooden Golf Tee Colour Chart
Select a colour below to see an example of our wooden golf tees and the colours available.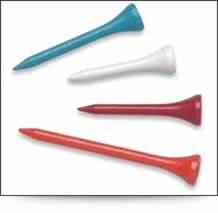 Deluxe Wooden Golf Tees
These premium quality, wooden tees are made from American sustainable Birch tees and are the top choice for many golfers. The premium wooden tees are available in a range of sizes with a stylish slim shank and sharp point - both durable and economical.
Minimum order quantity starting at just 1,000 tees for most colours.
Tee Sizes: 55mm, 70mm, 83mm
Request A Quote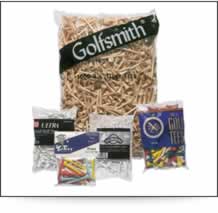 Bagged Tees
We are able to bag our wooden golf tees in resealable packs in almost any combination of tee sizes and colours.
These packs of wooden golf tees can also be branded with your company or shop identity if required. Perfect for golf clubs looking for own branded golf products.
Request A Quote